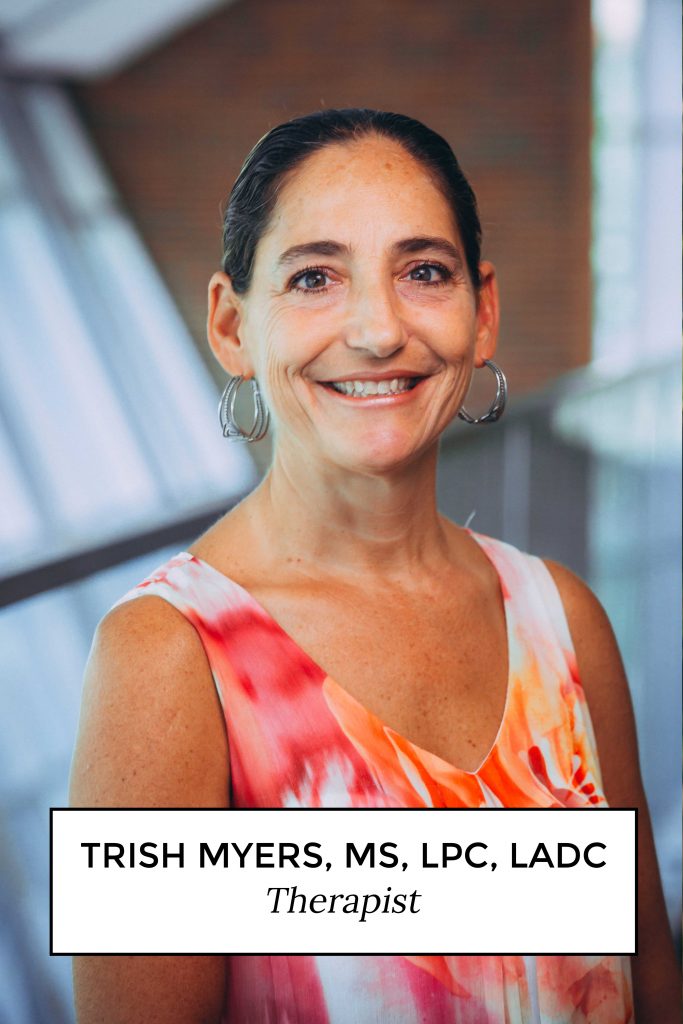 Trish Myers, MS, LPC, LADC
Therapist
Philosophy
As a clinician, I consider the therapeutic relationship built between therapist and client as the most valuable tool. Building trust within the therapeutic relationship is crucial in order to create a safe therapeutic environment so that together we may gain insight into how thoughts & beliefs impact your life. By utilizing psycho-dynamic psychotherapy in conjunction with other complementary therapeutic approaches, we work together to develop a deeper understanding about your experiences. These methods of treatment also have the potential to help unearth long-standing behavioral patterns or negative perceptions that may be holding someone back from experiencing a more fulfilling and meaningful life.
Credentials
I am a Licensed Professional Counselor (LPC #5166) and a Licensed Alcohol and Drug Counselor (LADC #1158). I graduated in 2008 with a BS in Family Studies & Gerontology and in 2010 with a MS in Counseling Psychology from Southern Nazarene University located in Bethany, Oklahoma. I completed a 15 month internship at Life Counseling Center followed by 2+ years of candidacy work to obtain obtain my LPC and LADC licensure. My clinical experience has included working with adolescents, individual adults, couples, and families. I also have experience facilitating adolescent and adult group therapy in both outpatient and inpatient health care settings.
Special Interest/Focus
My practice currently includes working with adult clients 18yro+. I provide therapeutic services for individual, couples & families (i.e., adult parent & adult child). Areas of practice include: adjustment difficulties, anger, anxiety, attachment issues, co-Dependency, co-occurring disorders, depression, grief, personality disorders, relationship issues, substance abuse/addiction, self-esteem Issues, and trauma.