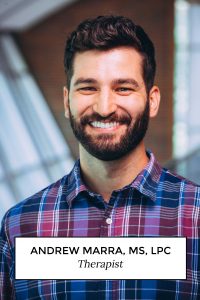 Andrew Marra, MS, LPC
Therapist
Philosophy
Through the organic process of a developing therapeutic relationship, Andrew strives to create a safe environment in which the people he works with can develop an understanding of both their present context as well as their past relationships. His aim is to address the immediate concerns of the people he works with in the greater context of their life experience. The people who see Andrew are manifold, including children, adolescents, adults, and couples. Andrew believes that people are more than the sum of a set of symptoms, and thus strives to incorporate the whole person into the therapeutic process. In attending to relational, emotional, spiritual, and existential concerns, Andrew hopes to help people live more fulfilling lives consistent with their values.
Credentials
Andrew received his Bachelor of Science degree in Psychology from Southern Nazarene University in 2010 and his Master of Science degree in Counseling Psychology from SNU in 2014. He participated in a clinical and research internship at the University of Oklahoma Health Sciences Center in the Child Study Center, along with a clinical internship with the Renew Counseling Center on campus at SNU. Andrew is a Licensed Professional Counselor.
Special Interest/Focus
Andrew integrates a relational psychodynamic perspective with an understanding of people as inherently biological creatures. The process of psychological change is fundamentally a physiological "rewiring" of the brain through new experiences and an ability to make meaning out of one's past and present.The uniqueness of the therapeutic relationship provides the necessary components for this process to take place.